Post by lemonear on Jul 21, 2020 15:30:52 GMT -5
I am using the m4l Midi Note Trigger Handler in order to lay my ClyphX Pro Actions out on the grid, and trigger my Actions that way. It's really useful for me in many cases, to visualize it like this. However, I am running into an issue that I cannot find a solution to. What's frustrating is that it happens sometimes, but not all the time. I thought I had figured out what was causing the improper results, but it ended up not being the case.
I don't know exactly what information is necessary and/or useful, so I'll give an overview and give more detail later if needed. Clip Launch Q = None, and GQ = 1bar.
I am arming tracks and using the play action to record clips so that I can record three consecutive 2bar clips in different tracks with no gap in between. This is for live looping, so I want to keep it moving along instead of an extra bar in between every clip that I record. When it works correctly, the 3 clips that are recorded look like this.
When it messes up, I get this. I can see it happening, in that I see the track arming, but it does not play (and therefore record into the clip) when it is supposed to.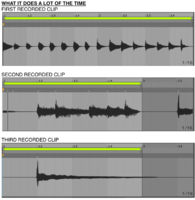 It seems to be sending the Play Action late enough that it is registering after the bar line, and the GQ of 1bar means it waits until the next bar. This affects the 2nd and 3rd clips that I am trying to record. I tried moving the two actions to arm and play the track for the 2nd clip, giving more space between them. This did not make a difference.
(Fwiw, I calculated with an online tool that at my project bpm of 82, even with a 1/16 note of space between the Arm and Play actions, it's 182.93 ms. This is well within the 20ms max it should take in between Actions being triggered.)
Any ideas about what could be causing my Play action for the 2nd clip to be sent late? I can post the Actions that I am using in the Trigger drum rack, as well as where I have them placed in the clip, if that will be useful.